Cold Pressed Virgin Coconut Oil
₹ 179.00 – ₹ 825.00
9 sold in last 6 hours
Virgin Coconut Oil (vco) is extracted from fresh coconut milk and is 100% natural. This oil is unrefined, unbleached and cold pressed. Unlike other coconut oil that is extracted through heat, VCO does not possess that rancid odour, but fresh aroma of coconut oil.
... people are viewing this right now
---
Cold Pressed Virgin Coconut Oil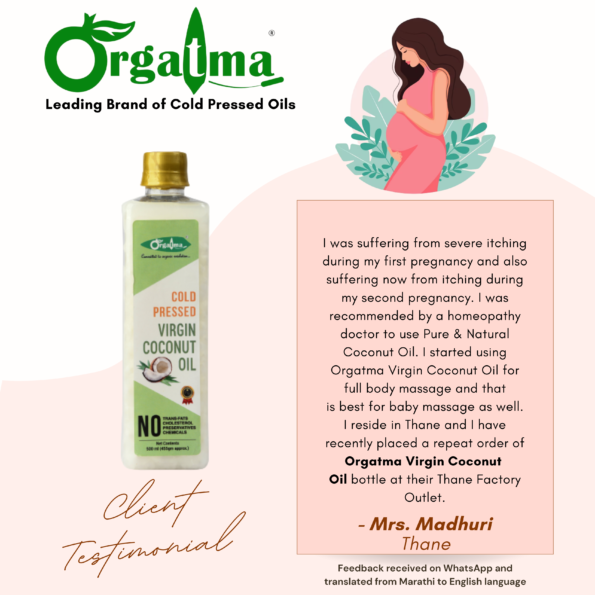 Cold-pressed virgin coconut oil is a type of coconut oil that is extracted from fresh coconut meat. Some key characteristics and benefits of cold-pressed virgin coconut oil:
Virgin Coconut Oil: Virgin coconut oil is typically made from fresh, mature coconuts, and it is considered one of the purest forms of coconut oil. It is often labeled as "virgin" or "extra virgin" to indicate its high quality and minimal processing.
Nutrient-Rich: Cold-pressed virgin coconut oil retains a higher level of beneficial compounds such as antioxidants, vitamins (like vitamin E), and minerals compared to other extraction methods. It also contains medium-chain fatty acids, including lauric acid, which is believed to have various health benefits.
Aroma and Flavor: Cold-pressed virgin coconut oil has a distinct coconut aroma and flavor, making it popular in cooking and baking. It can be used to add a tropical coconut flavor to a variety of dishes.
Culinary Uses: This type of coconut oil is commonly used in cooking and baking for sautéing, frying, and as a replacement for other cooking oils or butter in recipes. It can also be used as a salad dressing or drizzled over popcorn.
| | |
| --- | --- |
| Weight | 1 kg |
| size | 100 ml, 200 ml, 500 ml |
General Inquiries
There are no inquiries yet.